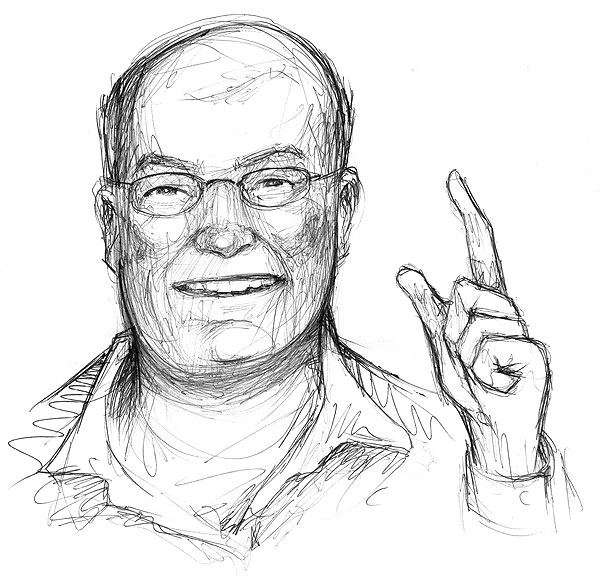 Pete I recently received a notice from the council about mowing my nature strip and generally keeping it tidy. OK I get that and I admit from time to time it gets a bit shaggy, but here's the stupid part – I don't own a mower, but am now being told I have to trim what is literally a strip of grass about 1 metre by 40 centimeters. What am I supposed to do, buy a mower for that!
Dave, West Footscray (via Facebook)
What you should do is… just buy a goat! Just think about it – no more mowing, trimming, or sheepishly hanging your head and sneaking back inside when friends visit and have to hack their way through to your front door. A goat neither needs to be fed nor watered as they will eat and drink anything. It won't need attention as the local kids can give it a pat on their way to and from school. It's not technically a pet so council can't make you register it. On the downside, you will need to pick up after it. You can't just ignore those nature-stip bombs like everybody else does because it's in front of YOUR house. Alternatively… you could just make friends with a local who owns a mower? Actually Dave, better make friends because if you plonk a goat on your nature strip, the kind that just bleats all day and night, craps everywhere, and chews your neighbour's succulents, you'll definitely be making enemies!
---
OK I am going to weigh into this dogs in bars and cafes debate by saying that I love dogs but I don't particularly want to eat or drink where they are, or recently have been. I did mention this point of view on (neighbourhood Facebook group name removed) and I was instantly shouted down. What is wrong with people – do hipster dogs not have anal glands and sweaty paws? Or has some guru somehow managed to breed a butt-less canine?
Cindy, Footscray (via Facebook Messenger)
But do you really love dogs? Really truly? Me thinks you need to get over yourself – you're too precious. If you'd been paying attention to those Facebook groups you would have realised that we are miles behind Europe and the USA because they allow you to take dogs everywhere. You never hear some Frenchy complaining about dog-fur tumbleweeds wheeling across the floor or pooch pheromones in the air at their local. This is the twentieth century Cindy, and you need to get with the program. So do our state and federal laws come to think of it. More human rights for dogs! (And while we've got the law books open lets tack on a few more human rights for humans eh? Like those poor sods stuck in our immigration detention facilities for years – lattes all round!)
---
Pete I know this is a real first world problem but whatever happened to the good old days when arguments used to fester for years or sometimes longer? Who played the most games for Collingwood, what year did Love Actually come out, how old is Scott Morrison, how many kids does Mick Jagger have? The list of problems was as long as my receipt from Liquorland and the solutions as rare as a visit to the local library. Now life is so boring because these squabbles can get settled immediately when some smart arse with a smart phone just whips it out and looks it up on Google. Where's the fun in that?
Cheryl, Newport (via Email)
I don't know whats more disturbing Cheryl, that you used the phrase "whips it out" or that you referenced Love Actually. In the meantime I'm going to guess that… you are often on the wrong side of the fact checking of these arguments, that you drink too much, and that you have never actually been to a library. Now just bare with me while I Google the answers… Aaah just as I thought, correct on all counts!
P.S. Tony Shaw, 2003, 51, 9.