By Derek Green
Local artist and film-maker Saidin Salkic should be well known to inner-westies, his exhibitions and celluloid expressions have consistently added to the regions voice over the last 10 years. Those familiar with Saidin's work will understand how his origins and experiences have influenced his work – and new audiences are in for a thought-provoking, yet often demanding experience. Quietly spoken but never shy, Saidin shared a few minutes with The Westsider, talking about his latest film; The Final Hours In Paradise, created over the end of 2021 and completed at the start of this year.
So Saidin, firstly can you tell us what the film is about?  
The Final Hours in Paradise is about many things I suppose; an old man on a deathbed, his hallucinations and his fear and his will to keep fighting on, all told in an epic 60 minutes of cinema of extreme intensity. Cinematically, it was a pretty exciting film for me to make; it's very exciting and strong, ruthless, psychologically and emotionally gripping. For me, it is also an ode to human connection, friendship and of its vanishing. (Long-time collaborator and film veteran) John Flaus suggested it immediately be sent to film schools and observed, I suppose like some precious moral object, elaborated on and explored – and attempted to be explained in detail.
"That present tense that we the audience are sharing with those characters on screen… has us enthralled." John Flaus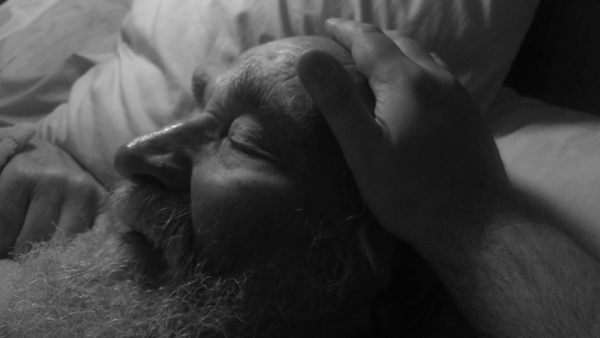 Did our opening up remove some of the production challenges working as an artist during lockdowns?
The re-opening probably has removed the barriers to production for those who needed it to happen for their productions. It is all in the film directly, it was a long sort of epic story that I understood and wrote very quickly; in one short sitting of about 5 minutes. It might be hard for some people to comprehend that and also that the whole film was filmed in one day, and those who have seen it found it very hard to believe that such a thing is possible. We filmed it on the 15th of December and by about 4th of January, after some of the hardest, most intense work, I had a cut of the film ready. Our previous film The Last Days of Loneliness was also filmed in a few days. The compression of time which is used to make a piece of art directly transmits its energy into the art that is being made, and that is really the crucial reason why we did film it in one day, that intensity that I felt as the filmmaker had no chance to escape or dilute itself in any way.
What is your motivation or inspiration for making this film?
That is hard to specify in one single form or word. I wanted to make a film that zoomed in on specific things, cinematically and emotionally, humanly – all of it simultaneously. I wanted to make a film both ruthless and beautiful at the same time. I suppose the intense joy of doing it was and is a huge part of the motivation. Inspiration is a feeling even more profound and it would be unfair to explore it in this relatively short interview. But I have spoken of it before.
What type of experience is film-making for you?
I feel like I am sitting down now, ordering a short espresso, and like some of those filmmakers of the past, somehow always with the view of the Eiffel Tower behind them, through the evaporating smoke of my oversized cigar, I start to tell you what the film is about. Or some other rubbish like that. Instead, I am in my shorts, having just finished a nettle tea, listening to a bird song of the afternoon, and starting to think about the next film! The filmmaking is for me one of the most supreme experiences I have ever had. It is the experience of the supreme, unmatched intensity, cognitive, emotional and the spiritual clash at the greatest speed imaginable.
Where is the film viewable?
The Last Days of Loneliness, which was gloriously reviewed in the most recent, hundredth issue of Senses of Cinema, will show in a closed session at ACMI soon. The Final Hours in Paradise has just been completed and we had a secret screening of it in Castlemaine last month. We are looking for the appropriate festival opportunities and we will hold independent, invites-only screenings in the meantime. The pandemic has brought one thing to the surface, even for those who were blind to the fact that the art is a deeply intimate thing, one of the most human things that can ever be and these intimate showings of art and cinema, for the privileged few and the trusted friends has always been the way I wanted to do it. One must preserve the energy of their art for the eternity ahead.
John Flaus provides us with the final word:
"It's a film that sets us off to think… and wasn't I lucky to be asked to be in this!"