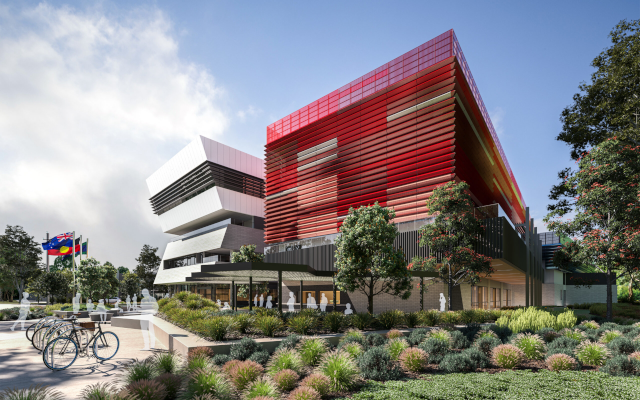 As school students look forward to return to classrooms later this year, some grade 6 students are looking a little further ahead, getting ready to become the foundation students of the government's newest vertical school, Port Melbourne Secondary College.  Located in the Fishermans Bend Innovation Precinct, the school will open its doors to year 7 students from 2022, with a number of those students enrolling from the inner west.
Fishermans Bend is Australia's largest urban renewal project and by 2050 it is projected to be home to approximately 80,000 residents. The creation of the new Port Melbourne Secondary College ensures provision of government schooling for families working and moving into the precinct.
Port's Foundation Principal, Anne Stout, is thrilled to be leading the new school. "As a principal, the opportunity to establish a new school is very rare; it's a real privilege and a great responsibility to the community, who rightly have high expectations for the college. I'm really looking forward to the challenge."
Former principal of The Mac.Robertson Girls' High School, Ms Stout enters the role with experience in founding schools, having served as assistant principal of Albert Park College when it first opened in 2011. She is confident the school will have great appeal to both the immediate local community and those who are living and working close to the area.
"I think now there's a sense of excitement with new schools, because we've had a lot in Victoria over the past few years, and people have seen how successful they've been and how special it is to be part of that establishment and growth as a school community develops", she said.
The college will offer all areas of the Victorian curriculum, and has been designed for its context within the new Fishermans Bend Innovation Precinct, with state of the art science, engineering, arts and technology spaces to support a creative, innovative and design-based curriculum. Design thinking for innovation will be taught explicitly through the curriculum program and creating strong connections with institutions and industries within the Fishermans Bend Precinct will be a priority.
Ms Stout said the new school building on Graham St — set to complete construction later this year — was "phenomenal".
"I'm hoping that families will get the chance to tour the school late in the year and I think people will be incredibly impressed when they see the facilities and what we have to offer."
Whilst the school has been designed to service families in Southbank, Port Melbourne and Fishermans Bend, in its early years it will also be opening its doors to families from the inner western suburbs. "I know from my previous experience (at Albert Park College) that there is great interest from families in the inner west, many of whom travel past each day to work and are keen to be part of the magic of a new school. Where we can accommodate those families, I'll certainly be welcoming them to Port."
Port Melbourne Secondary College is currently taking enrolments for 2022 and Ms Stout said she was very confident that opportunities for families outside the zone would exist in the college's first few years. Where families may have more than one child, the chance for siblings to attend in the future is often a point of discussion.
"Families usually expect that their children will all attend the same school, so siblings are always taken into account when we accept students outside our school zone. We want to make sure we can fulfil our obligation to zoned students and also keep families together, and those are things we consider and commit to when we accept students."
Port Melbourne Secondary College is currently taking enrolments for its 2022 Foundation Year 7 cohort. Families who are interested in learning more are encouraged to contact Anne Stout via port.melbourne.sc@education.vic.gov.au for information.